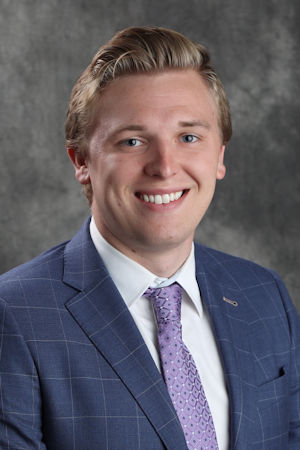 Erik R. Hanson
Erik Hanson is a native of Grand Forks, North Dakota. After graduating from Red River High School, Erik attended the University of North Dakota, where he graduated with a Bachelor of Accountancy degree. During his time at UND, Erik was heavily involved in the University and community at large, serving as Student Body President, Vice President, and the chief lobbyist for UND student interests at the North Dakota State Legislature. This experience led to his work on projects such as the successful passage and construction of a new Memorial Union, and a broad array of development through the University Avenue corridor. In addition to his work on campus revitalization, he also worked with community leaders on infrastructure development and land use planning projects with Grand Forks' downtown district.

After graduating from UND, Erik moved to Washington D.C. to work on Capitol Hill. Erik served in the Office of Congressman Kelly Armstrong, North Dakota's lone member in the House of Representatives. While on the Hill, he worked on constituent outreach and policy in areas including agriculture, energy, and taxes, meeting with business leaders, trade groups, lobbyists, and other state and community leaders.

Erik left Washington D.C. to attend the Sturm College of Law at the University of Denver. During his time in Denver, he clerked for Kirch Rounds Bowman & Deffenbaugh, PC, a trust and estate law firm, where he worked primarily in the areas of estate planning and administration, both basic and complex, and probate litigation. Erik graduated from Sturm with his Juris Doctorate and a Certificate in Corporate and Commercial Law, with an emphasis in courses relating to corporate and business entities, securities, land use planning and development, and tax law.

Upon completion of his J.D. in Denver, Erik moved back to North Dakota to work at Camrud Law Firm, where his primary emphasis is in business and corporate transactions, real property transactions, trust and estate planning and administration, and other business, corporate, and probate litigation. He is licensed to practice in all state courts in North Dakota and is a member of the Randy H. Lee American Inns of Court.

Outside of work, Erik enjoys staying active in the Grand Forks and UND community, continuing to engage in state and local interests, attending UND athletic events as often as possible, and is an avid college and professional sports fan. Erik also enjoys participating in sports, including basketball, softball, volleyball, and golf. On the weekends in the summer, he can often be found behind a boat, wake surfing or wakeboarding, and enjoying time by a bonfire with family and friends.