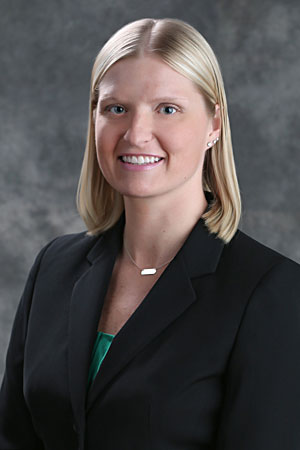 Megan J. Flom
Megan J. Flom, R.N., J.D., is a native of Fargo, North Dakota. She received her Bachelors of Science in Nursing from the University of North Dakota in 2004. She received her Juris Doctorate with Honors from the University of North Dakota School of Law in 2015.
Megan brings to the firm more than ten years of experience in the healthcare industry. As a registered nurse, she has first-hand clinical experience in pediatrics, NICU, OB-GYN, medical-surgical, and same-day surgery. As an infection control nurse, she was instrumental in obtaining CMS accreditation for a newly established same-day surgery center.
Megan also has extensive experience in Medicare's DME appeals process. While working for a Medicare Administrative Contractor (MAC) she conducted review of beneficiary medical records to determine proper payment for Durable Medical Equipment. She also assisted in re-writing policies and regulations regarding Medicare coverage guidelines.
Megan's practice consists primarily of health care law, medical malpractice defense litigation, guardianships, debt collection, and employment law.