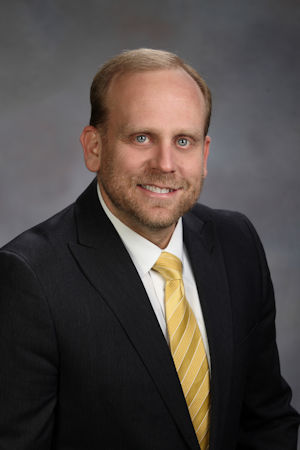 Mark A. Grainger
Mark's areas of concentration focuses on litigation in the areas of real estate, business law, contract law, and probate disputes. Mark brings a unique blend of business and legal experience to his practice. Mark's diverse background and experience gives him a keen insight into the legal issues facing landowners, business owners, employers, and those interested in establishing guardianships and conservatorships, etc. His litigation experience includes, but is not limited to, the following types of lawsuits: probate disputes, guardianship/conservatorships, contract disputes, business dissolutions, agricultural issues, drainage law, quiet title actions, landlord/tenant issues, and boundary line disputes. He also represents creditors against those who have filed bankruptcy.

While Mark's professional career has moved him to several states across the country, the Greater Grand Forks community is his home. He grew up in East Grand Forks, MN, graduating from high school there. Mark received his Bachelor's Degree from Concordia College, in Moorhead, MN, majoring in Mathematics (cum laude). He attended law school at the University of North Dakota where he graduated with distinction and was selected by the faculty as a member of the Order of Barristers.

Mark is admitted to practice in Minnesota, North Dakota, the US District Court for the District of Minnesota, and the Federal Bankruptcy Court for the Districts of Minnesota and North Dakota. He is a member of the Greater Grand Forks Bar Association, Minnesota Bar Association, and serves as a member of the Board of Directors for the East Grand Forks Education Foundation. Mark currently serves as the Chair of the Ethics Committee for the 14th District Bar Association in Minnesota.